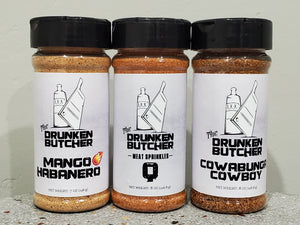 BBQ Blends
The Drunken Butcher
Regular price $27.00 $24.30 Sale
Cowabunga Cowboy - Get ready to take a ride through old Mexico while simultaneously having your taste buds massaged with flavors from the wild, wild west. Cowabunga Cowboy is best smoked low and slow on all meats.
Ingredients:
Sea Salt, Brownulated Sugar, Paprika, Ancho Pepper, Garlic, Onion, Black Pepper, Thyme, Cumin, Mustard Seed
Mango
 Habanero is a fiery blend of citrus with a splash of habanero. This sweet citrusy heat goes perfect on fish, but it doesn't end there. Try it on everything!
Ingredients: Sea Salt, Mango, Honey, Molasses, Butter, Lemon, Paprika, Bell Pepper, Lime, Cayenne Pepper, Garlic, White Pepper, Ancho Pepper, Onion, Citric Acid, Cane Sugar, Black Pepper, Arrowroot, Habanero Pepper
Q is a unique blend of herbs and spices that is sure to tickle the taste buds. Use a liberal amount on meats for your next BBQ and be prepared to win the neighborhood cook off.
Ingredients: Sea Salt, Paprika, Brownulated Sugar, Molasses, Apple Cider Vinegar, Honey, Garlic, Onion, Cane Sugar, Chili Pepper, Worcestershire, Butter, Cayenne Pepper, Black Pepper, Cumin, Oregano